You've probably heard of SUP yoga, but have you heard of SUP Pilates?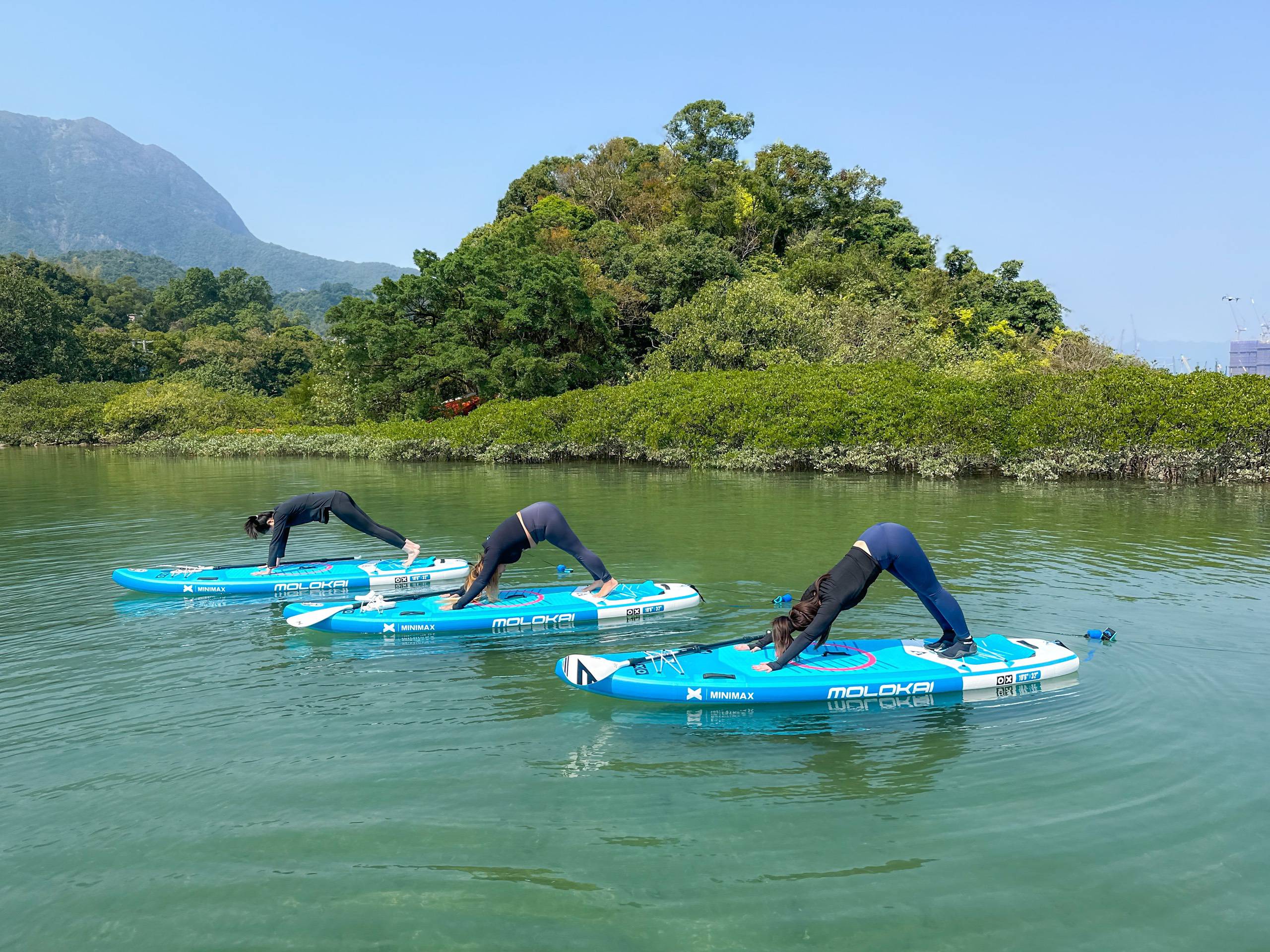 First of all, Pilates combines ANIT™ Movement (positive posture) and barre training to improve bodybuilding and stretching. It is especially useful for Hong Kong office workers who sit for long hours. Pilates emphasizes body alignment, joint mobility, coordination, and balance to activate inactive muscles, relieve muscle tension and weakness caused by poor posture.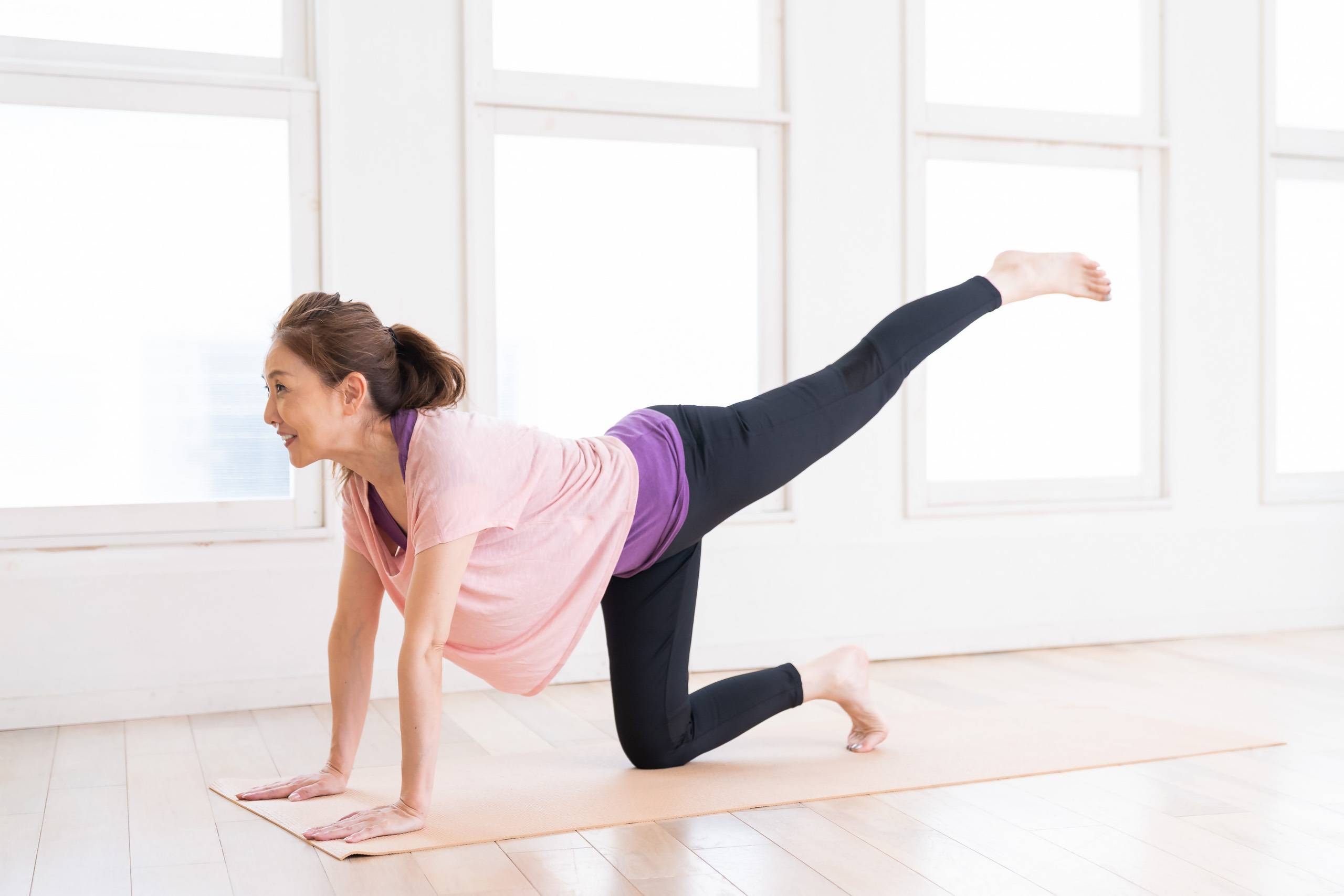 As the name suggest, our SUP Pilates experience brings Pilates movements to paddle boards, combining the benefits of both activities and enhancing the Pilates experience. Our certified coach takes you on a paddle board into the ocean to do Pilates while feeling the board floating on the sea, listening to the waves, and connecting with your body and mind. Because doing Pilates on a paddleboard requires more balancing, it forces you to utilise more muscle group and enhance the benefits of Pilates to a different level.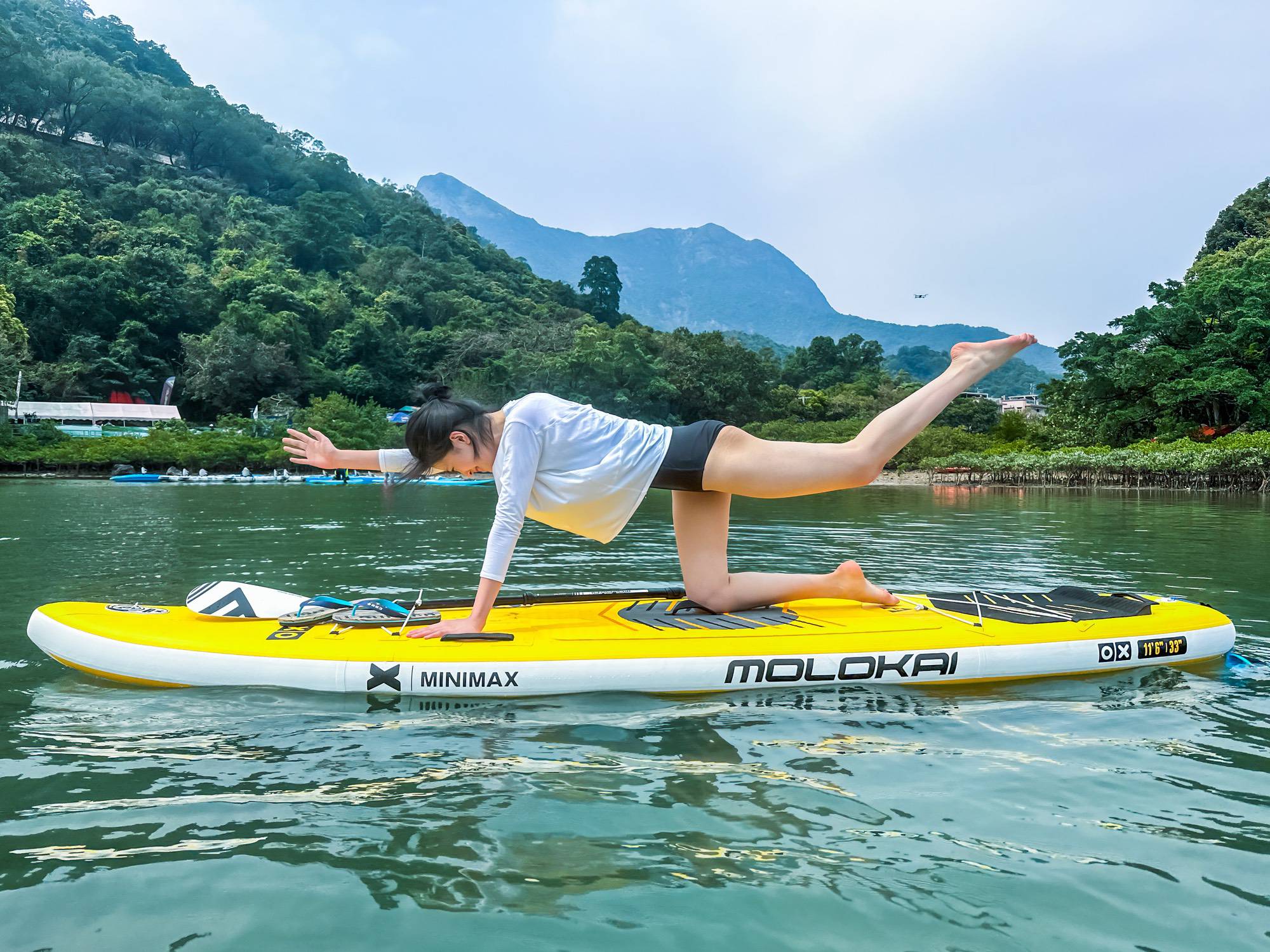 To let people get a taste of the benefits of SUP Pilates, we have partnered up with Coach Yanka, who is an expert in both Pilates and stand-up paddleboard, to set up some trial classes last month. We begin by teaching participants how to use the paddle board gear, especially the paddle essential for controlling the board. Don't worry if you are new to this; our coach will adjust the course depending on participants' ability.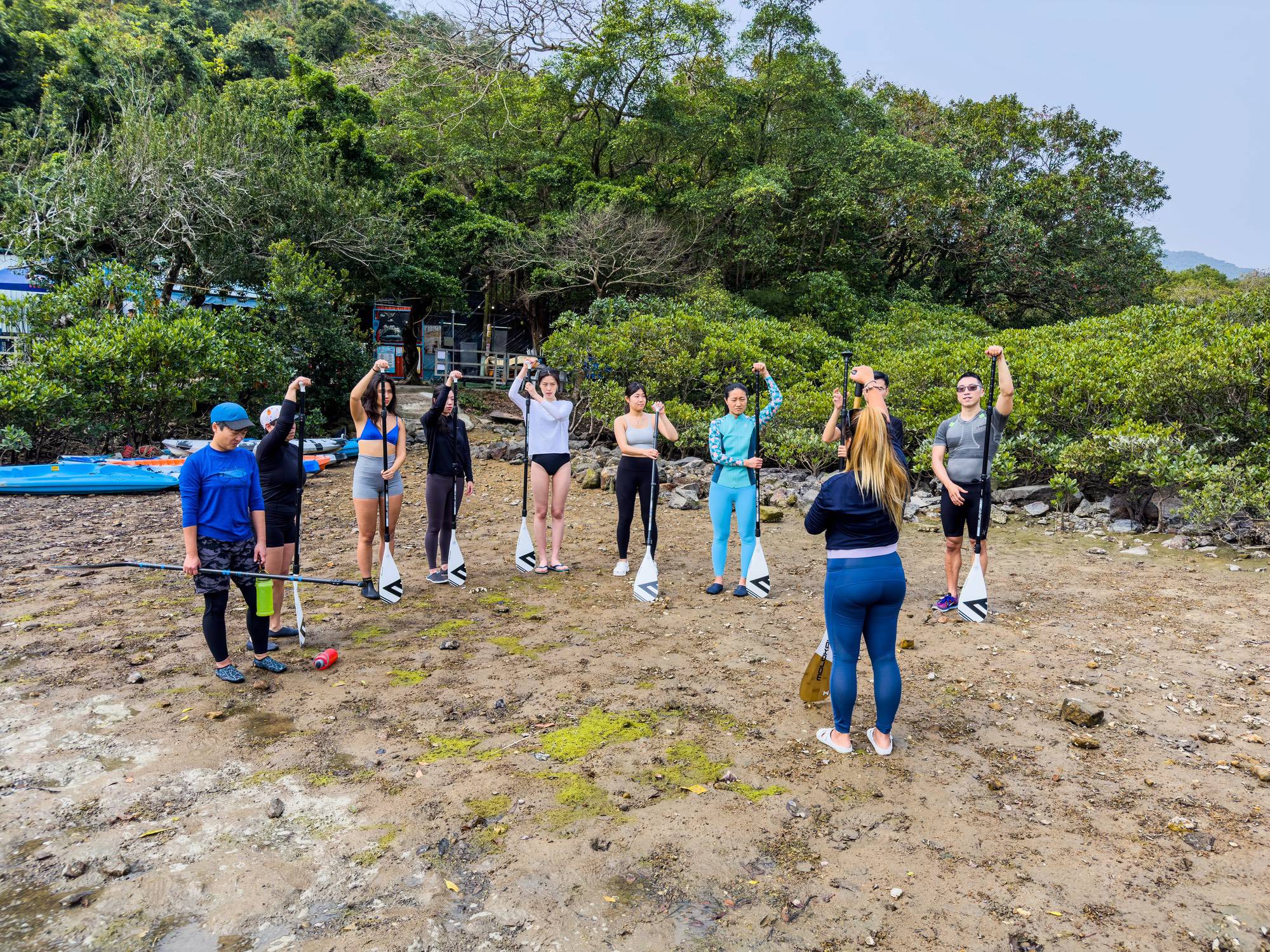 Once everyone knows how to use the equipment, it's time to jump into the water and get onto the board! We have specifically chosen Blue Sky Sports Club Kei Ling Ha Centre as our venue because of its shallow, calm water, which is perfect for beginners. The water is not deep at all, so even if you don't know how to swim, you have nothing to be scared of.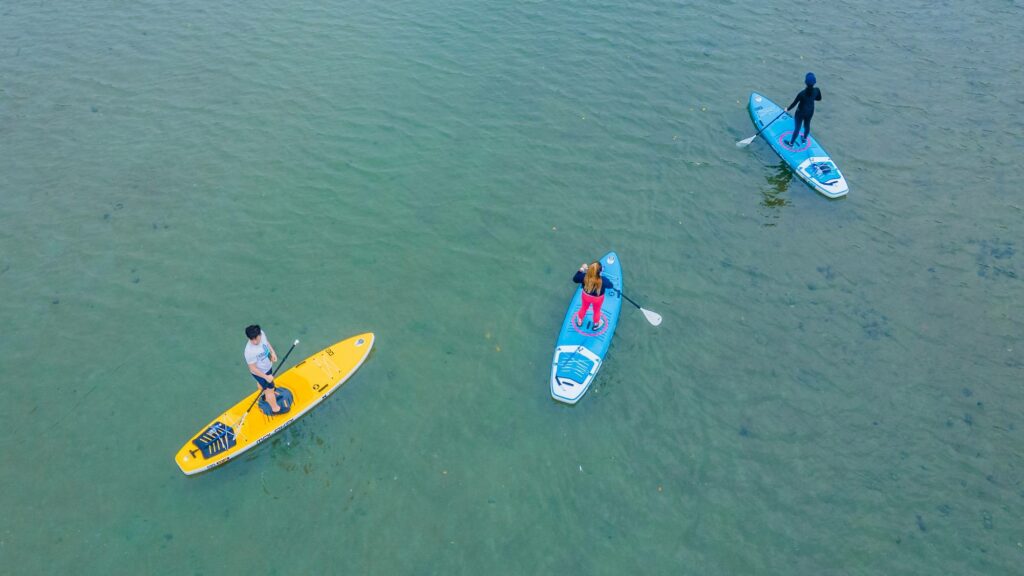 Once everyone is on the board and everything is securely fastened, it's time to begin the SUP Pilates. To help participants warm up and get used to the board, Coach Yanka starts by teaching everyone some simple stretching while sitting down. Then, we move on to a series of basic Pilates movements like Pelvic Curl, Chest Lift, and Spine Twist Supine. You'll notice that these all involve lying down on the board. This is deliberate as it keeps the center of gravity low and helps balance on the board. Unlike doing Pilates in the classroom, SUP Pilates is usually more challenging as the board will move ever so slightly with the wind and your motion. However, by doing Pilates on a paddle board, you'll utilize more core muscles and help with strengthening your proprioception and concentration. It also helps with relieving stress when you are floating on the water in the refreshing outdoors.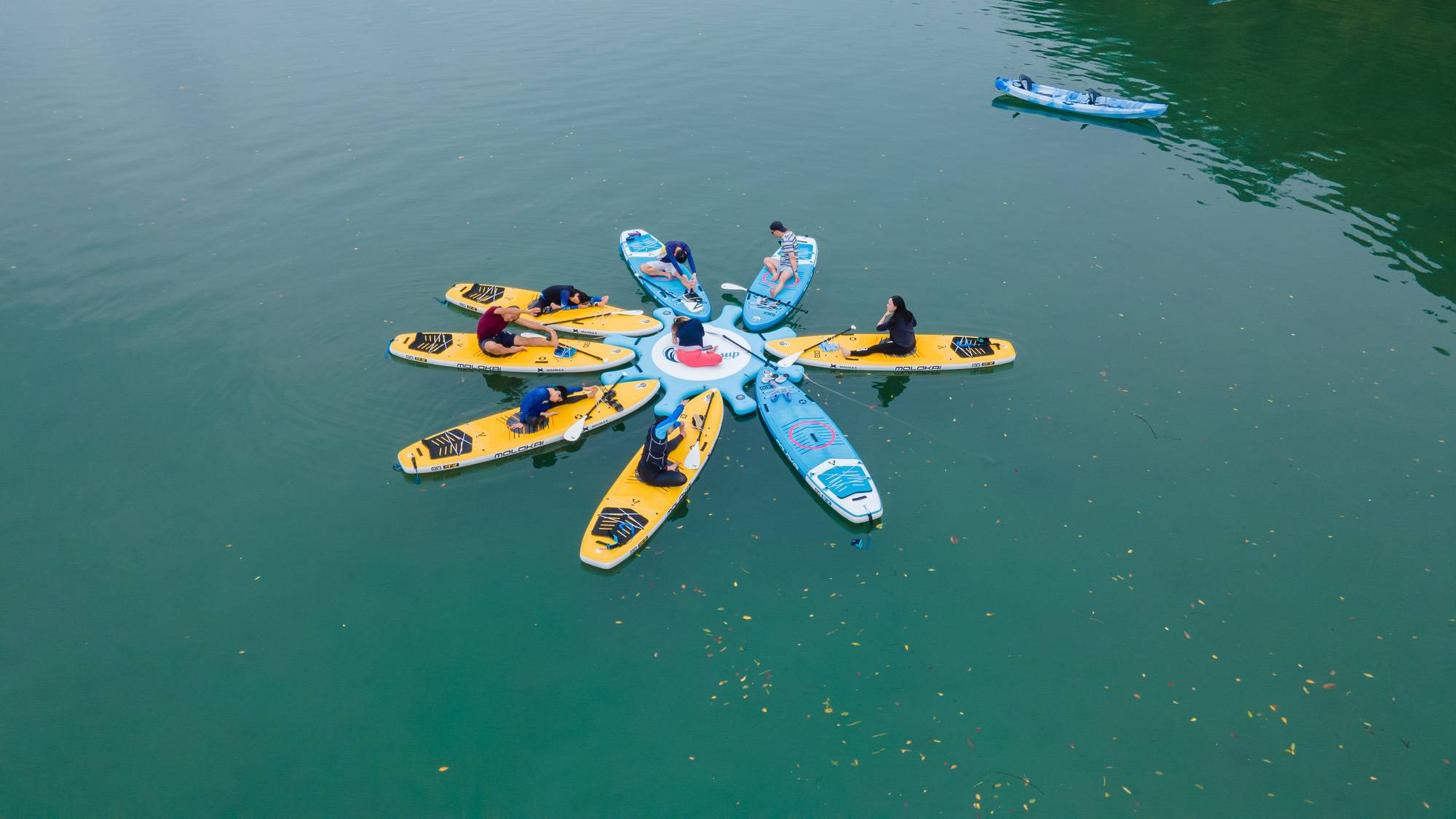 Usually, at this time, our coach will evaluate everyone's progress and correct their posture and movement as needed.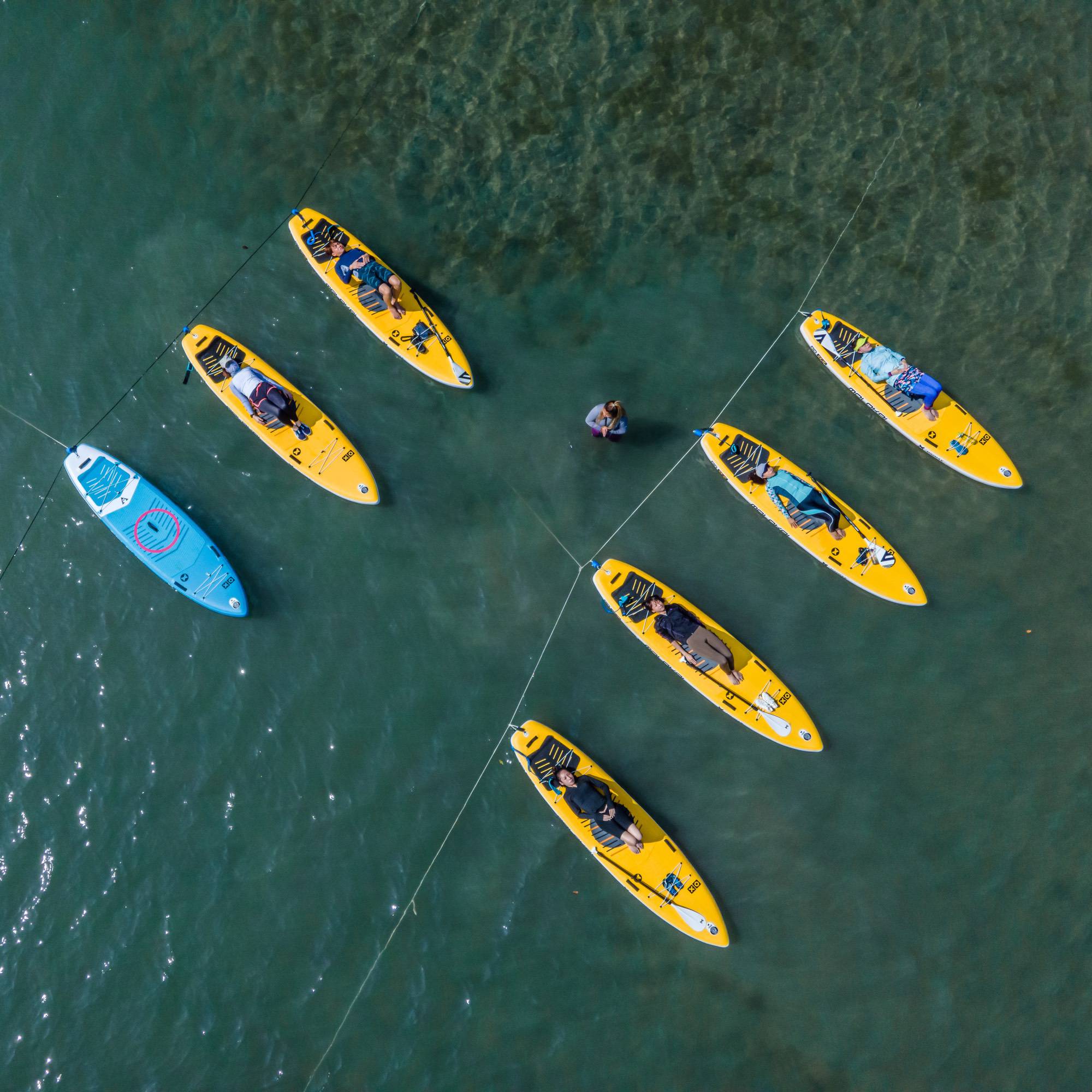 Then, it's time to take a break, followed up with more basic practices! After some more practicing, it's time to move on to more challenging Pilates movements such as Diagonal reach and Scissors, Bicycle, and Kneeling Side Kick. You might notice that these movements have fewer contact points with the board, which requires more balancing skills and are usually only taught when participants have mastered the beginner move sets.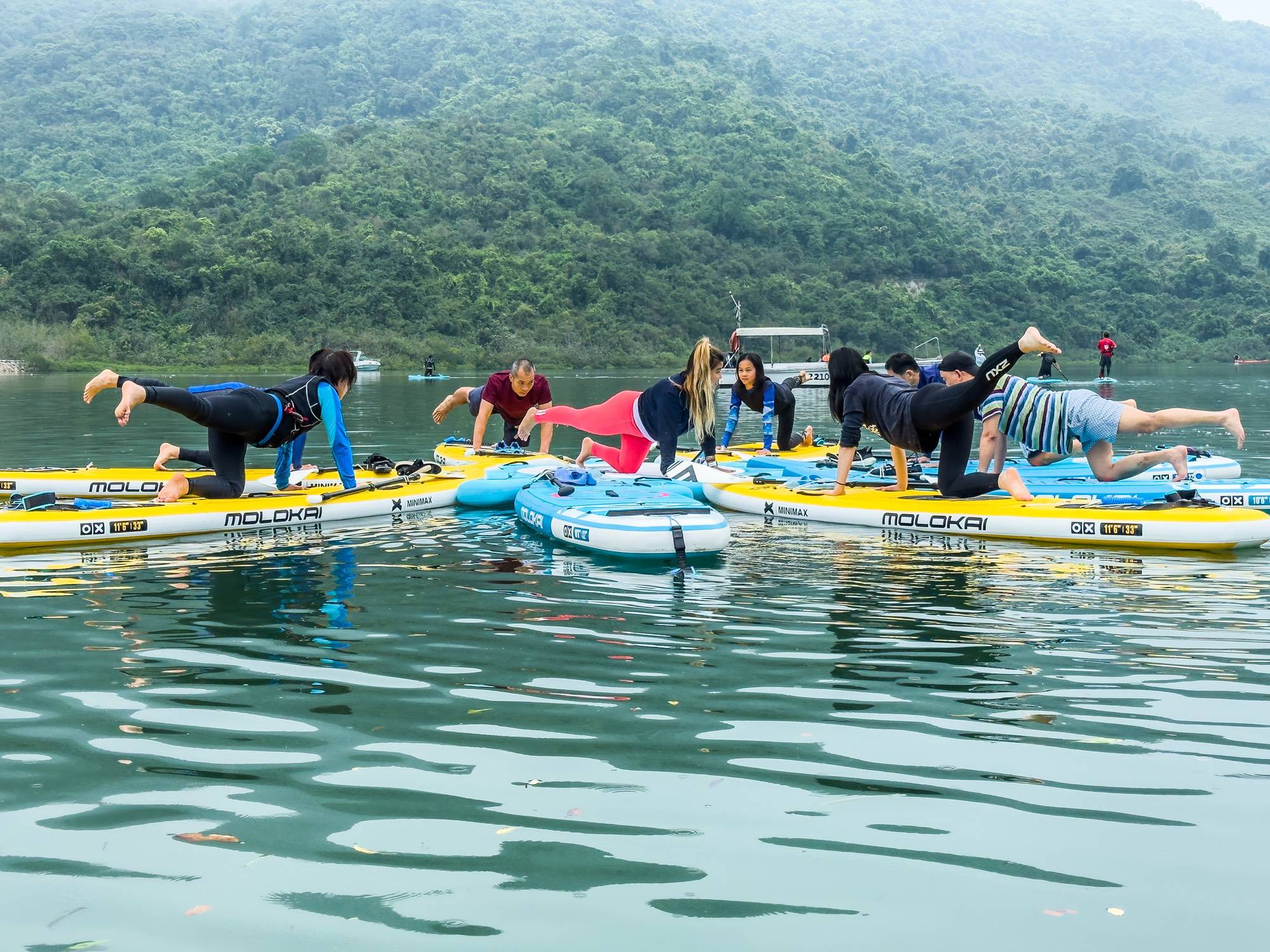 More practicing, and Coach Yanka is providing personalized instructions to each participant.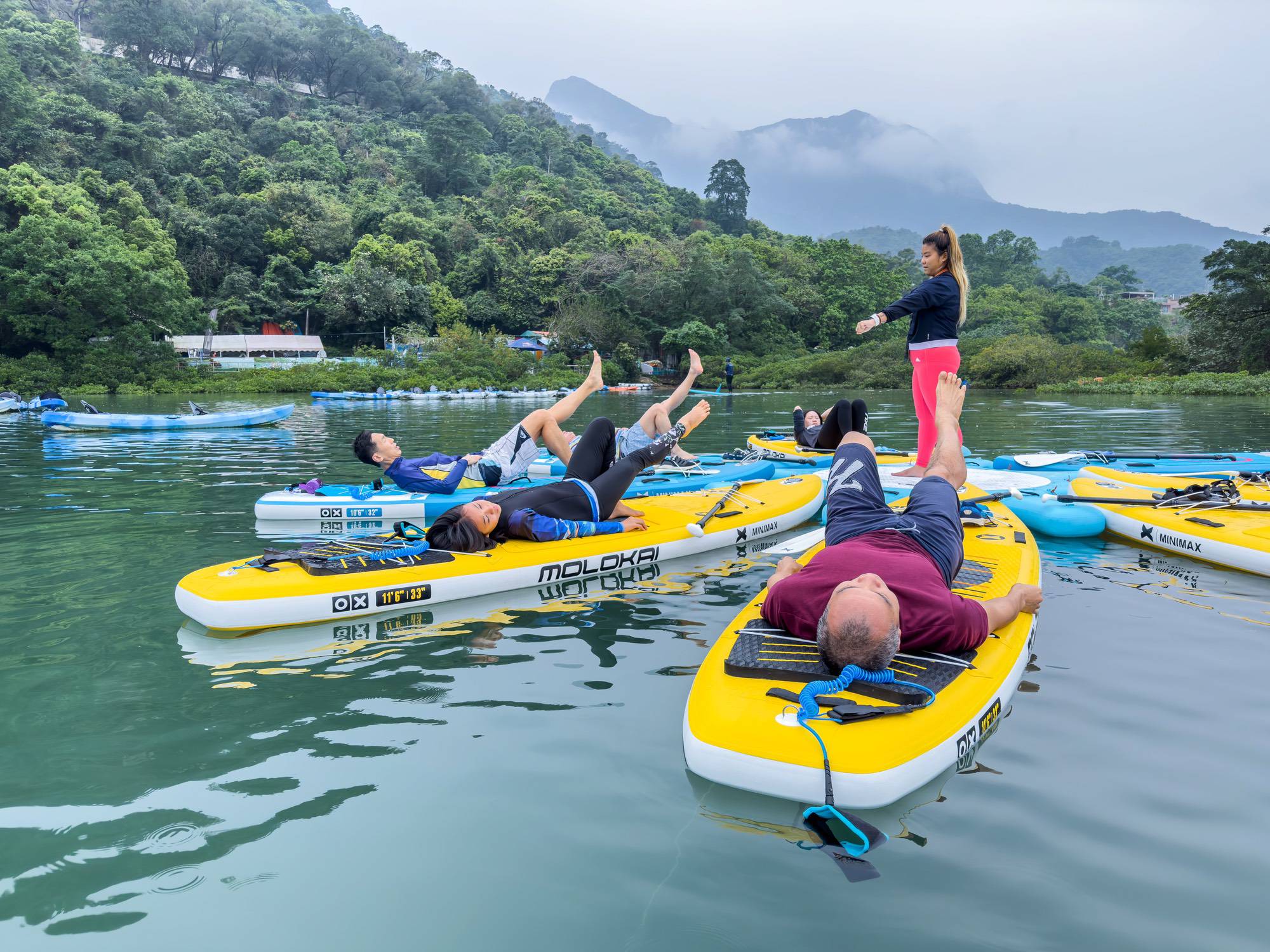 Time flies by, and everyone has completed their assigned movements! Feels good, doesn't it? But some participants aren't satisfied after getting a taste of paddleboarding. They want to rent a board to start paddling immediately! Learning from this experience, we have now incorporated SUP beginner classes and SUP tours into our Pilate programs. You can learn how to paddle or have a guided tour around the Three Fathom Cove and enjoy the peace and quiet of paddleboarding after your Pilates session.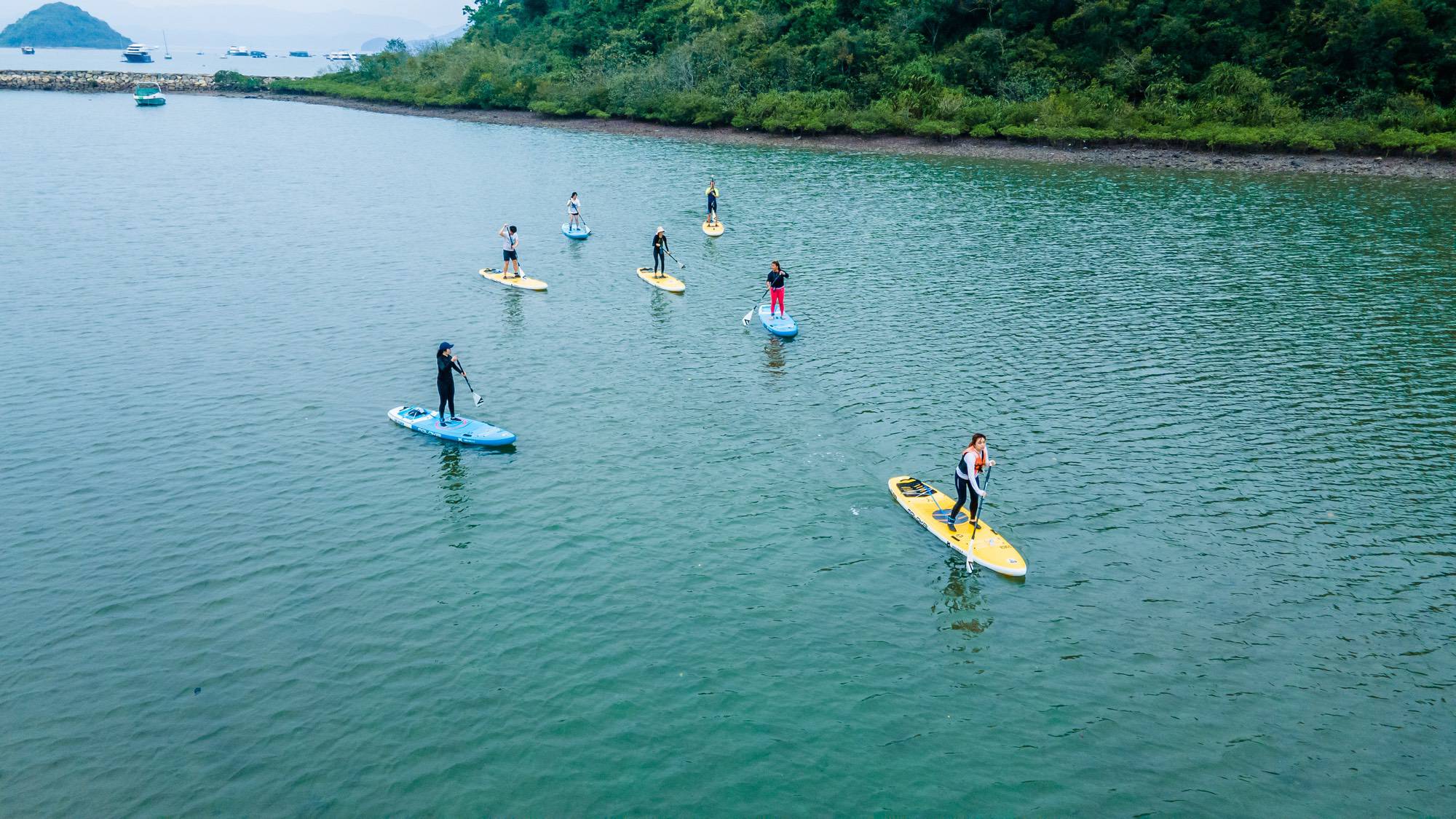 Last but not least, we want to thank all the staff of Blue Sky Sports Club and Whatzsup who helped prep the venue and maintaining the equipment. They are really a bunch of hardworking people who love water sports, and the event would not have been as successful without their help! Hats off to you guys!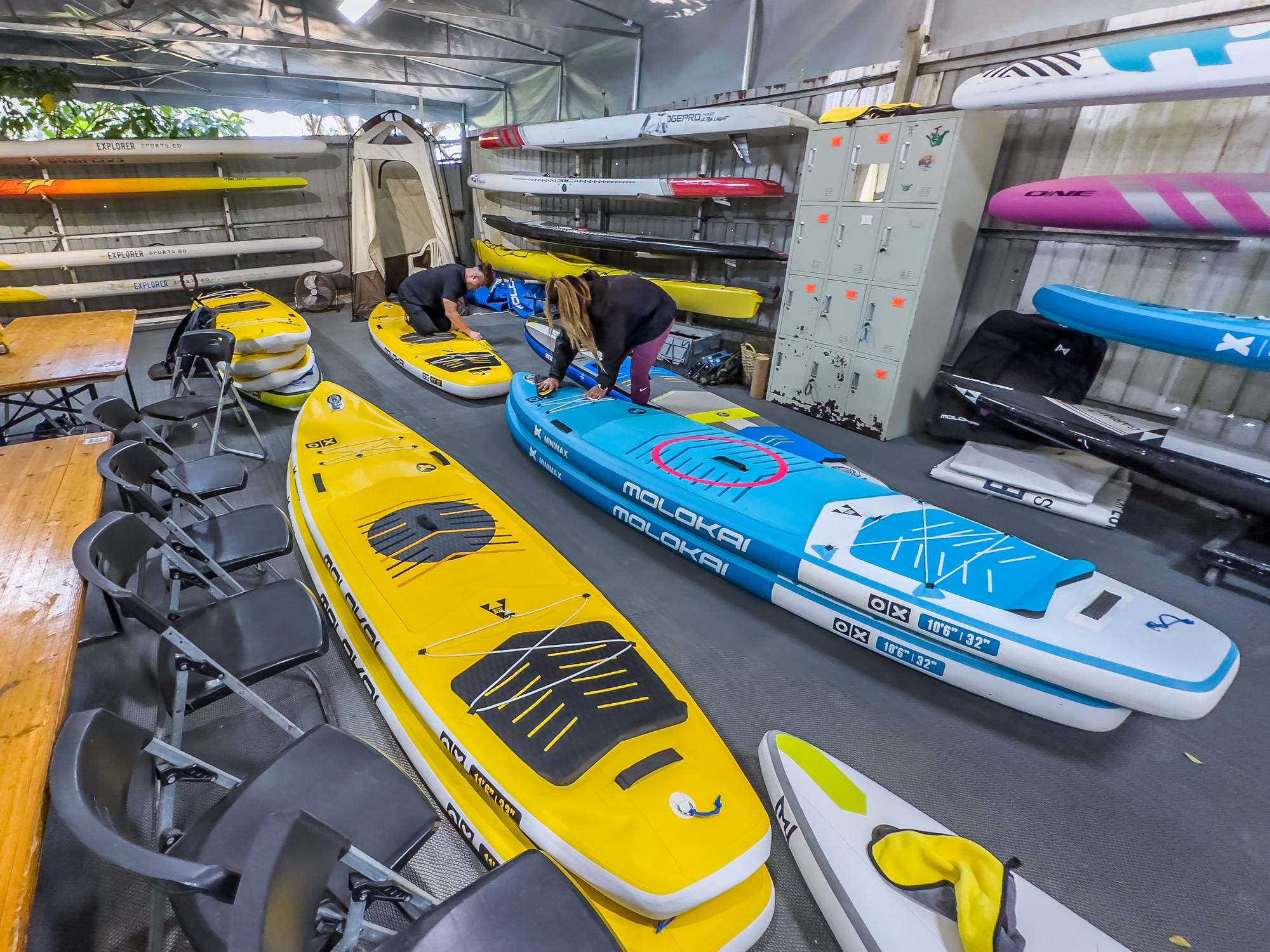 So, do you want to try out our SUP Pilates program, learn about its benefits, and enjoy some quiet time on the water? You can sign up for our group class, which can be held anytime for four people or more as a group. Alternatively, we can also set up a private class if you want to have a more personalized session.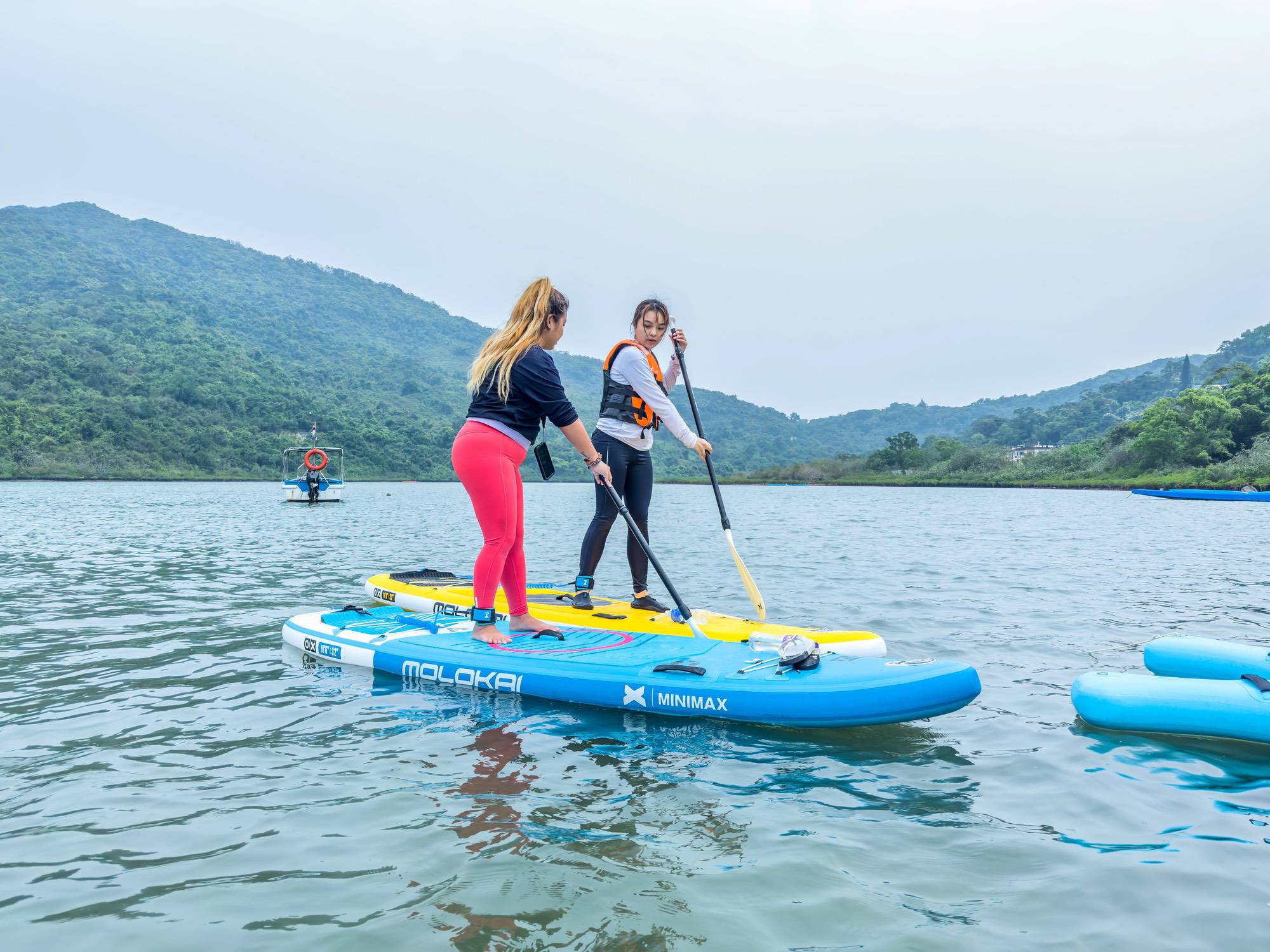 Contact us now to learn more! We are excited to share the fun with you.