Pilates combines ANIT™ Movement (positive posture) and Barre training to improve bodybuilding and stretching. It is especially useful for Hong Kong office workers who sit for long hours. Pilates emphasizes body alignment, joint mobility, coordination, and balance to activate inactive muscles, relieve muscle tension and weakness caused by poor posture, and burn fat.
Our SUP Pilates experience brings Pilates movements to paddle boards, combining the benefits of both activities and enhancing the Pilates experience. Our certified coach takes you on a paddle board into the ocean to do Pilates while feeling the board floating on the sea, listening to the waves, and connecting with your body and mind.
And if you're interested in learning how to paddle board or exploring the nearby Three Fathom Cove after the SUP Pilates session, we also got the program for you.
Our instructor(s) possess professional qualifications including 【Anit Pilates and Barre】and the 【Level 1 Flatwater SUP Instructor 】from the International Surfing Association.
Click here to read more about our SUP Pilates program
These classes can be formed whenever you have a group of four people or more.

Frequently asked questions
Is the water deep? I don't know how to swim.
For SUP Pilates, classes will be conducted in very shallow water. Normally, the water depth will not exceed your waistline. So, don't worry even if you don't know how to swim. We welcome you to join us!
Can I join the SUP Beginner Class or SUP Tour if I don't know how to swim?
Yes, you can! However, for safety reasons, you are required to wear the buoyancy aid we provide. Please note that if your session only involves SUP Pilates, you are not required to wear the buoyancy aid.
Directions to Kei Ling Ha San Wai
1. From Sai Kung: Transfer to bus route 99 or 299X after arriving at Sai Kung Town. Disembark at Kei Ling Ha San Wai bus stop, and our center is only a 5-minute walk away.
2. From Ma On Shan: After arriving at Wu Kai Sha MTR Station, transfer to minibus 807B. Disembark at Kei Ling Ha San Wai bus stop, and our center is only a 5-minute walk away from the bus stop.
3. Driving: Advanced booking is required due to very limited parking space at the center.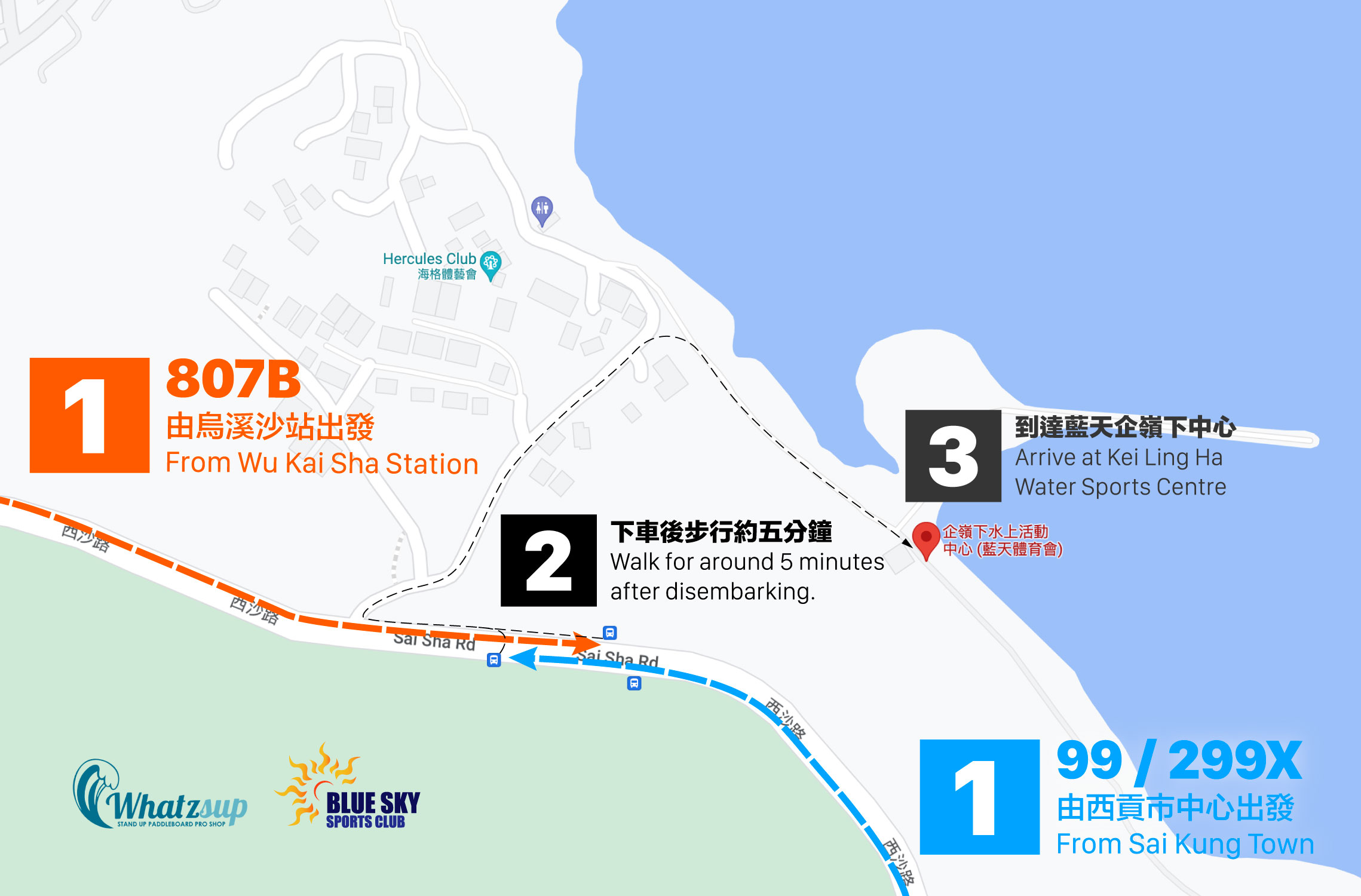 I truly appreciate the coach and her pleasant class. I enjoyed every minute of it. I hope to see you again soon!
The coach was patient and professional, and the environment was clean and tidy. Also, the scenic view was dazzling. I enjoy the experience very much!! 100% recommended 👍
教練講解 Yanka 有耐心,非常詳細,令我學習得很愉快,也很快上手。
The coach is nice and great!