Hero Air Race 14′ x 24″ has been upgraded to the second generation, and is now much lighter and faster!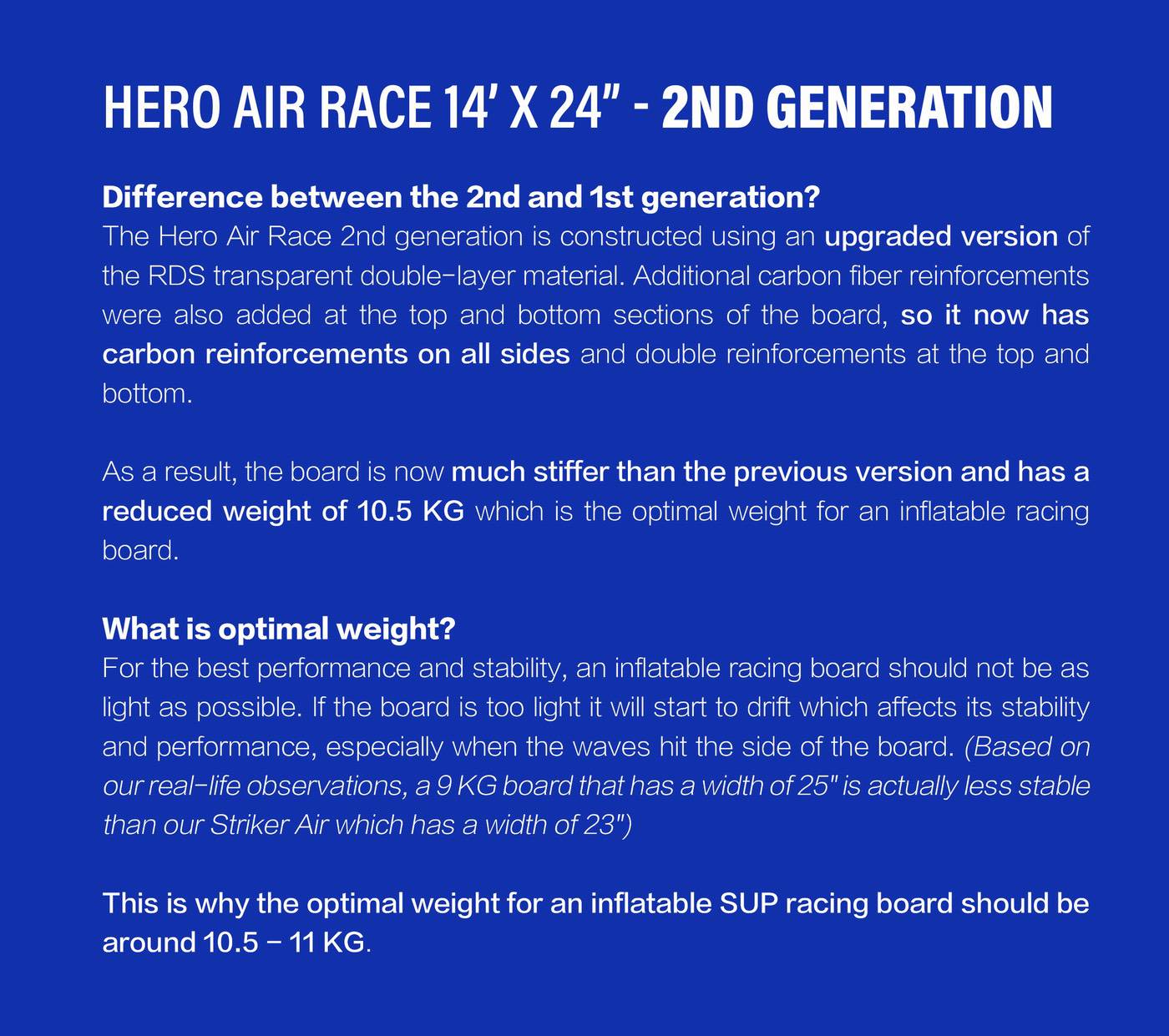 HERO AIR 14' x 24″ is an all-round racing board. The width of 24" gives the board a very high-speed profile. The innovative STANDING WING traction pad widens the standing position and therefore improves the rider's balance. The wide tail design and the extra width allow the HERO AIR 14' x 24″ to cope with more complex water conditions and racing scenarios.
In terms of materials, Molokai continues to use only racing level RDS (Reinforced Drop Stitch) transparent double-layer material, combined with the unique 3K carbon rails on the sides and extra center stringers (PVC + 3K Carbon) on top and bottom for additional reinforcements and maximum stiffness.
Features
Very Narrow Board Width (suitable for experienced paddler)
Racing Level Structure (further increase stiffness without weight increase)
Reinforced Drop Stitch Technology (high stiffness, light weight)
Heat Fusion Construction (zero glue)
Standing Wing (increased traction pad width)
3K Carbon Rails (maximise board stiffness)
PVC+3K Carbon Double Center Stringers (minimise deformation)
Diamond + Twill EVA traction pad (balance between comfort and traction)
Raised Rear Foot Pad (easy pivot turn)
Included Accessories
TPU safety leash, fiberglass racing fin, double action hand pump (inflate & deflate), rolling backpack (breathable material), standard repair kit
Frequently Asked Questions
Q: Is it suitable for beginners?
A: Even though the STANDING WING enhances the stability of the board to 26 inches equivalent, the Hero Air is still better suited for paddlers who have a good balance and are looking for a performance board for long-distance touring or racing.
Q: What are the differences compared to Striker Air?
A: With a widened tail design and increased board width, the Hero Air is more stable than the Striker Air and can be used in a wider variety of water conditions.
Q: Compared with other inflatable racing boards, what are its advantages?
A: When paddling with this board the strokes feel much lighter. It also has a much better cruising speed as well as better stability compared to inflatable boards with the same width.
Q: Can it be compared to a hardboard?
A: The performance of this board is comparable to similar size racing hardboards when in flat, calm water.
Q: What is the ideal paddler weight?
A: To achieve the best waterline, the rider should weigh 45 – 80 kg ideally
(Recommended Limit: 40 – 100 Kg).
Q: How much air pressure can this board take?
A: The maximum air pressure of the Reinforced Drop Stitch (RDS) material used in this board is 18 PSI or more. For use in flat water in Hong Kong it is recommended to pump the board to at least 12 – 15 PSI, or 18 – 20 PSI for long-distance touring or racing. The higher the air pressure, the stiffer the board is.
(Reminder: When on dry land, do not leave the board fully inflated under the sun for a prolonged period of time. Either leave the board in the water or lower the air pressure to avoid damage.)
Q: Describe the board with one sentence?
A: Enjoy the thrill of speed like never before.
Specifications (2nd generation)
Recommended Rider Weight: 40 – 100 KG
Volume: 315 L
Board Weight: 10.5 KG
Board Length: 14′ (427 cm)
Board Width: 24″ (61 cm)
Board Thickness: 6″ (15 cm)
Backpack Height: 80 cm
Backpack Width: 50 cm
Backpack Depth: 20 cm
Warranty
2-Year Warranty and Specialist Support included with all Molokai Products purchased at Whatzsup
How to use
Recommendations
Always wash with fresh water and let the SUP board dry before storage for longevity
Do not leave the SUP board inflated on land for long period of time to avoid over expansion of the air inside
Pump your board to the appropriate pressure (PSI) when use: 12- 15 PSI for recreational use in flat water, 15 – 18 PSI for long distance touring in open water, or 18 PSI for racing
Always wear your leash when paddling to stay attached to the board if you fall